A long day of driving makes us slightly nutty, which is why we planned to make a couple of stops along the way. The first was JR's in Selma, NC, a large discount warehouse-style place with pretty much everything you could possibly want, all in a true southern atmosphere.
Outside JR's
Mixed in with all the kitchen supplies, bedding essentials and food items, you've got Nascar souvenirs, hunting and camping gear and an expansive selection of religious literature. Yep, we're in the South now. After getting Lola set up in her crate, we headed in for a very brief shopping spree. I had been hoping for more RV-related appliances, but we did manage to pick up at least one exclusively-RV item, a nice stainless steel pot. I also bought some nice-smelling soaps, which officially makes our trailer bathroom more well-stocked than our home bathroom.
Steve was anxious to get back on the road, so we departed after a quick lunch of soft pretzels. Our next stop was about an hour and a half away, my childhood happy place where my parents were able to get a brief respite from my brother and my constant backseat squabbling. I'm talking, of course, about South of the Border. Times have changed, and even though I know it's not quite as magical as it seemed from my five-year-old perspective, I still love to stop there for nostalgia's (and picture-taking) sake.
By the time we got close enough to start seeing the ubiquitous signs dotting the landscape, Steve's energy reserves were a bit depleted. I decided to be magnanimous and offered to take a pass on SOB this time, since we'd be stopping there on the way home anyway. I'm such a good wife. Well, really I was just worried he would get too tired to drive and I'd be forced to take over. SOB would still be there in a few days in all of its neon-lighted kitschy glory.
Tough life...
Destination Skidaway
Five Red Bulls (Steve) and a nap (me) later, we finally crossed the bridge into Georgia. Since neither of us had ever been to Skidaway, we had no idea what to expect. It was about 25 minutes from downtown Savannah, so we certainly didn't think it was going to be the swampy, palm tree-swathed paradise it turned out to be.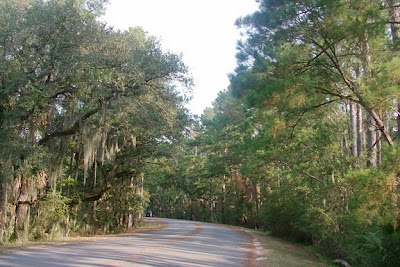 At the camp office, a friendly staffer handed us maps and parking passes and told us we had our pick of the land. In other words, we could choose whichever campsite we wanted. What!! So we drove through all four sections of the campground, taking in the damn near-palatial sites and discussing advantages/disadvantages. The sites closest to the wooded areas looked promising, as heavy greenery separated them from neighboring sites. Even better: we could pull right in and our trailer door would face the woods. Our own private slice of this paradise? Don't mind if I do! It didn't take too long for us to find our perfect match:
Not a soul around to bother us...yay!